Bellavista Collection Loves Green – Color of Nature, Spring, and Renovation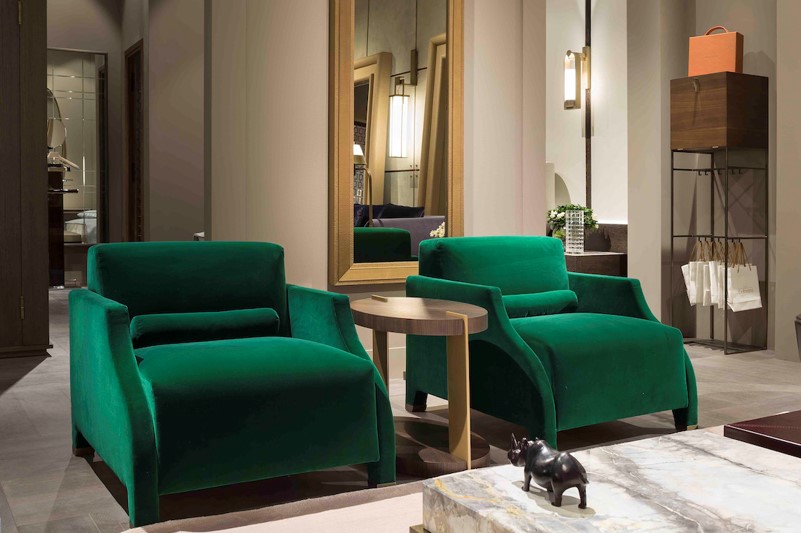 We are surrounded by colors. They are everywhere. It's no secret that all colors we constantly see around have a certain effect on our mood, which means that choosing the color palette for your home is extremely important.
Colors of furniture upholstery greatly contribute to the overall feel of your dwelling. Bellavista Collection, the Italian brand that offers Italian luxury furniture, along with lots of other things related to interior design, has always paid great attention to colors. Just browse through UPHOLSTERED PIECES sub-category of the brand's online catalog (PRODUCTS section in the website's menu) and see it for yourself. Almost every sofa, armchair, dining chair, or bench in this sub-category can be upholstered either in leather or fabric, and each of these two options offers numerous colors to choose from.
The Color of the Year 2022
Even if you aren't a designer, you probably remember common classifications of colors (e.g., warm and cool) and heard of Pantone Color Institute.
Since 2000, Pantone Color Institute announces the 'Color of the Year'. Strictly speaking, in its annual reports Pantone reflects current trends and spots emerging ones, rather than sets them. However, this institution has long become an authoritative source of information related to the use of colors in visual communication.
That is why, lots of professionals from various industries, whose vocation is related to colors, tones, and shades – product designers, advertising professionals, interior designers, and architects, to name a few – look forward to this announcement from Pantone Institute at the end of each December.
In 2022, it is a lovely color named Very Peri (Pantone code 17-3938) – a "dynamic" periwinkle blue hue with a vivifying violet-red undertone", as Pantone experts describe it.
But colors are rarely used alone in interior design. Probably, nobody would love to be surrounded by a single color, however, they might love it. Colors and their shades are used in combinations; in an ideal case, they harmonize with one another, evoking particular feelings, and creating a special atmosphere.
That is why, Pantone Institute also offers four unique color palettes with Very Peri, with eight colors in each palette. In addition, Pantone suggests three color combinations, where Very Peri is harmoniously combined with three other ones.
These diverse combinations perfectly illustrate how versatile this color is. It's easy to see that each of these palettes conveys a completely different mood.
One of them is named 'Wellspring' and described as "a holistic and harmonious blend of nature-infused shades". Four out of its eight colors are shades of green. Well, their names – Greenbriar, Foliage, Celery, Treetop – speak for themselves.
The beauty of Nature is Timeless
Nature is an endless source of inspiration for designers. It's even more so for Attilio Zanni, Bellavista Collection's chief designer, whose talent significantly contributed to the brand's success. The pieces from the most recent collection are united under the awesome general idea: celebrating the beauty of Nature. Just look through newly designed items, and you'll notice how masterfully the beauty of wood, leather, and other materials are highlighted. Also, a range of finishes named Bellavista Nuances includes those in several shades of green.
Green Color in Bellavista's Booths at iSaloni
In actual fact, the use of green color isn't something unique to the last collection. Some of Bellavista's iconic pieces are shown at the Salone del Mobile. Milano years ago, featured green upholstery.
In 2013, Bellavista Collection presented two NONNALISA sofas, upholstered in luxurious emerald green velvet. Needless to say, this sofa has become iconic and now enjoys great popularity with customers.
Six years later, in 2019, the same upholstery was chosen for two FILOMENA armchairs that attracted the attention of many trade fair visitors.
What About iSaloni 2022?
The much-anticipated 60th edition of the Milan Furniture Salon is scheduled to take place from 7 to 12 June 2022. After two years without this trade exhibition (the last year's Supersalone was of the way smaller scale than pre-2020 editions), professionals from multiple industries look forward to the anniversary event held live at last.
Bellavista Collection is no exception. The brand prepared a good number of showpieces designed in 2020, 2021, and 2022. One of the items to be displayed at the Salone will be a TREE bar unit. Designed in 2020, this luxurious piece has already gained popularity, in spite of the fact that it hasn't yet been showcased at trade events.
What is special about its design is the central detail made of solid Olive Ashwood that decorates its two wooden front doors. A real tree trunk is sawn lengthwise to produce aboard for this detail. That is why every door will surely look unique because no two tree trunks are exactly the same.
By the way, olive ashwood is a slow-growing species that gives premium hardwood of slightly yellowish color, with a bit of rosy shading closer to its heart. This wood looks really attractive thanks to its straight grain and large growth rings. Olive ashwood is durable, rather heavy; it's naturally waterproof to a great extent, which makes this material extremely versatile.
The rest of the doors and the inner surface of the bar unit are covered with an exclusive finish named Bellavista Nuances; the brand started using it in 2020. The finish for TREE comes in seven color options; it could also be matte lacquer or glossy lacquer.
So, what you see on the door fronts is a beautiful outline of a tree trunk with highlighted wood texture, contrasting with the glossy finish. It's already known that the color of the finish picked for the iSaloni showpiece will be the one named 'green lawn'.
All in all, the TREE bar unit is a great pick for the exhibition. It perfectly illustrates the general idea of Bellavista's latest collection, i.e., celebrating Beauty of Nature. And this idea, in its turn, is quite in line with two concepts the 60th edition of the Salone Internazionale del Mobile will be focused on: eco-friendliness and sustainability.
Related Posts